New Providence Marine Scrapbook
---
This page contains a few interesting pictures and articles featuring our products.


---
2/1/07 Customer Email
Dennis,

I thought some of you might be interested in the following: I gave up on my Snake River tank monitoring system and switched to a replacement system manufactured by New Providence Marine Systems.

Seems the guys making and selling this system are quite familiar with Snake River products and their system is effectively a wire-for-wire replacement. You can even use the same foils that are on the tanks.

Had a little trouble installing the system Saturday (operator error), and almost before I could complete my question, they had me on a conference call with the engineer. Not once, but twice. Rmemeber this was Saturday. Now that is service!

System is now operational and has some very nice operating variances that I do not believe were in my Snake River system. To buy the system I went on the Internet to Ferriello Sales. I recommend anyone looking to replace the Snake River system, take a look at this one.

John Burns


---
January 2007 Good Old Boat Magazine Product Announcement
Check out the January 2007 Good Old Boat magazine new product announcement featuring our sensor and display products:



Good_Old_Boat_Jan_2007.PDF (1,053kb)


---
11/27/06 Customer Email
Dennis,

Thanks again for the great support in solving my waste tank gage problems. Your customer support is truly fantastic!

The Solo Panel is so superior to my previous gages and the Full Alert function is unique, a simple glance at the panel now tells me if the waste tank is approaching full.

Thanks again!

Bob Williamson


---
Houseboat Show 2006 in Reno NV
---
Houseboat Show 2006 in Louisville KY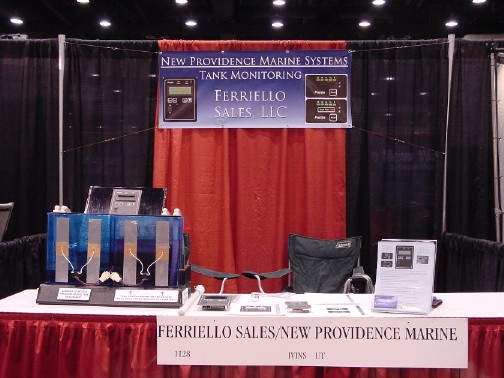 ---
August 2006 Houseboat Magazine Article
Make sure you read the August 2006 Houseboat Magazine article featuring our products:



Houseboat_Article_Aug_2006.PDF (217kb)


---
Legacy 7.0 Panel Installation By Sumerset Boat Owner
---
Owner Installed Non-Contact Sensor on a Catalina C320 Tank
---
Al Corkins' Legacy 6.0 Installation
Al is a recent customer of ours who has a really great webpage filled with interesting boating articles and many usefull marine links. Visit his site here: AL's CARVER 325 webpage

Al installed one of our Legacy 6.0 display panels on his boat and wrote a great article summarizing his experience. You can download and read the entire article below:



Al_Corkins_Tank_Level_Monitor_System.PDF (281kb)





---
Owner Installed Profile 8-Tank Display Panel
This is a picture of the back of one of our original Profile Series 8-tank monitoring panels just prior to final installation. Note the resistors installed across sensor channels 2 & 3 for attached float sensors.


---
User Testimonial
From an actual customer email who installed a Profile 8-tank display panel:

"I can now express my wonder at how easily and straight forward the installation of all parts to the tank metering units were. From the initial cutting of the CPVC sender units for fresh water and head tanks to wiring them up to the meter. I read all information months before installing but the day I installed it I forgot where the instructions were so it was done by virtual guessing. However, everything was so straightforward, marked and intuitive, no one should need the instructions. Even the preprogramming was done for me and if I wanted to change or add or omit, the screen provided me with what was needed. This was the fastest and easiest installation I have ever done....except for the wiring up through all the crevices in the boat. I really appreciate what you and your partner(s) have accomplished with this system. I will be showing it to everyone who gets on my boat or wishes to know about it. I am enclosing pictures of the installation as you requested...and thanks again."

S.K. (name omitted by webmaster)